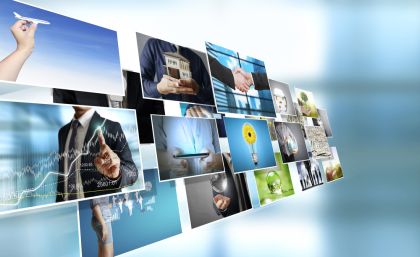 In almost any modern business establishment you visit today, you will find tv screens or monitors that display helpful information and perhaps advertising and promotions. You will see these screens in reception areas, in shopping areas both inside retail stores and outside in mall complexes and it is no surprise that traditional billboards are disappearing. The big advantage of these screens to businesses is that with a click of a button they can be updated or set to introduce a completely new advertising or promotional campaign. It doesn't matter if you are managing a single store, or a fleet of stores across a country or continent, the process is still the same.
Cost effective
Firstly, it is a very cost effective in-store advertisement platform. All you need is a modern TV or monitor, our hardware package and an Internet connection. We supply the hardware package in its small form factor - small enough to sit out of sight and attach behind the monitor or tv. We set it up and there is no configuration or effort on your part. We supply the interface where the content is prepared with suitable graphics and the scheduling software. With the content prepared and a playlist of display material - web pages, video's, images and text - it is simply a case of switch it on and you're ready to go.
Secondly, you can save money in your marketing budget. No longer do you need to spend as much money on printing physical content with all the logistics that this entails. Instead of printing an advert to put up as a poster (which will have a limited impact and a short life span), simply type up the text on your pre-defined background graphic and voila - within seconds it is active on your live display, or can be scheduled for a future date/time and can be changed at the click of a button.
Hook your customers with attractive campaigns
In today's world, where customers are bombarded with advertisement, it is more important than ever to stand out. A simple paper billboard/poster display is usually not enough to capture the customer's attention. They may notice it initially but very soon it just becomes part of the wallpaper. What you need is to create marketing campaigns that stand out and really capture their attention.
With traditional print content, you're stuck with paper as your canvas. With our Digital Signage System, you are entering into the digital age. This means that you now have a whole new set of tools at your disposal. For instance, you can:
Showcase your products or services in compelling full HD video.

Mix and match videos with traditional images in a playlist.

Display web-pages with live information and your own web advert content.

Use powerful playlist management to focus on your customer habits
Thanks to the integrated and sophisticated playlist editor, it is a breeze to manage campaigns and assets. Not only can you set a start date and end date for an asset, you can also configure more complex rules. You will know your customers habits over any given period of time and even down to what some people want in the morning to those with different requirements later in the day. With scheduling of displays you have this level of control and can target specific groups of customers.
Entertain your customers
As customers are starting to filter out more and more of the advertisement they are exposed to, it is important to not only advertise, but also to give your customers a reason to pay attention to your screens. Since digital signs enables you to mix and match content, this enables you to add non-advertisement content to you screens. It is really your imagination that sets the limits, but here are some ideas to get your inspiration flowing:
Local News
Promote Your Services or Products

Local Weather
Sports Results and Events
Traffic and Road reports
Database feed
Twitter or Facebook feed
Instagram images
Invited Guests - sell space to other businesses in your area for a fee
In fact digital signage is effective just about anywhere that people congregate and will be influenced by the display