Currently the only certified booking engine for Joomla
This software application has been entirely designed according to the requests of owners of Hotels, B&B and Apartments. Using a reliable booking engine is something very important for those Hotels that work with online travel agencies every day of the year.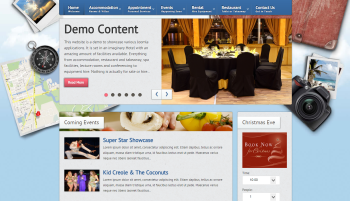 To view a demonstration of this application please visit here
Use these credentials to log into the website
Username:  demo
Password:  demo
We recommend you purchase a SSL Certificate to accompany this application - see available SSL Certificates here
This application is available to buy as an add-on from within your website control panel. It can also be ordered when you initially sign up for any of the website packages. The application runs under Joomla and this must be installed in your package.
Below are screenshots of the Accommodation Application Administration panel and options:
The extension has been certified by TripAdvisor and it can be configured to work for Hotels with different Room Types as well as Hostels or Apartments renting the whole house. The configuration page of the program will let you set up the extension according to your type of facility.
The main difference between this application and other Joomla extensions is that the software was not designed to create a portal of Hotels of a city or a region but rather to build the website of a Hotel, B&B, Hostel or Apartments belonging to the same owner. This application does not support multiple Hotels so it should be used by single properties only. This is not a missing feature but rather something that we chose on purpose to deliver a better product.
Multi-language support (including RTL languages with Gregorian Calendar), Currency Converter (with over 100 currencies supported), SSL support for secure connections and much more.
If you are looking for a professional and reliable software for your Hotel or your Hotel client then this application is the right solution.
Rooms and Room-Types Management
Some Hotels and B&B prefer to list all their rooms inclusive of Number while some others like to list just their Room Types like Single, Double, Triple...With this application you can choose your preferred configuration for your rooms/apartments.
Compose the details page of your Rooms by using a short description and a longer HTML description text supporting any kind of Joomla Module. Add the pictures of your Rooms and, optionally, also a Caption text that will be displayed in a slideshow. Your Rooms can also be assigned to different Categories to list them separately in the front-end.
Configure your Rooms to accept a minimum and maximum number of Adults, Children and total People. For those not needing to collect information about the number of Children, it is possible to disable this setting from the Configuration page.
With the Options it is possible to define some extra services for your Rooms such as an Extra Bed or Breakfast. Add the Characteristics of your rooms for the services included such as TV, Wi-Fi, Pool etc.
For those configuring various Room Types, it is possible to define a number of Units available for that Room and the users will be able to book it up to that limit on the same dates.
Prices per Night and per Occupancy
The Pricing System was designed to fit any possible pricing policy that the facility applies.
We know what tools and options are offered to the Hotels by portals like Booking.com, Agoda, Expedia, Airbnb etc... and any possible pricing policy is built into this software. Our clients find themselves very familiar with the pricing system used and is the key for a successful website.
Prices per Night based on the Length of Stay: this is probably the most used Rate Plan type and you can define the exact cost for each night of stay. Those that apply a cost per night regardless on the length of stay can just define their standard rate per night no matter how long is the stay.
Prices per Occupancy: it is possible to adjust the prices per night depending on the number of Adults occupying the room. Those that configure their rooms as Room Types and would like to give a Double Room to one Adult only, can define a charge or a discount for the single occupancy of the room.
Age of Children: it is a common problem among Hotels to receive bookings for a Child who is older than the limit they allow. Most of the time this would be considered as an Adult or as a "half-adult". With this application you can easily avoid these kind of issues and apply a charge depending on the age of the children. Requesting the number of children as well as their age is an optional function that can be disabled from the Configuration.
Seasonal Prices and Promotions: adjust your default rate plans on some Seasons/Holidays/Weekends/Festivities of the year with the Special Prices. Apply charges as percentage values or as fixed amounts as well as discounts on some dates of the year.
Any Hotel/Host is familiar with price-changes during some days/seasons of the year and will find this function similar to the Price-Calendar Tool that most portals have like Booking.com, Agoda, Expedia, Airbnb etc...
Optimize the Occupancy of your Rooms or Apartments
This function is what most Hotels/Hosts would like to have on their preferred portals where their property is listed. Thanks to the Restrictions in fact, it is possible to prevent an apartment to be booked for example, on the second and third week of the month, leaving it empty or unwanted for the first and fourth week. This is just one aspect that you can configure with the Restrictions.
Minimum and Maximum Length of Stay: this is what most portals call MinLOS and MaxLOS and it's a function to define the minimum/maximum number of nights that can be booked on certain dates/months of the year.
Week-Day Arrival and Departure Combinations: it is possible to define on certain dates/months of the year one or two arrival days. This function is very useful for those renting their houses/rooms on weekends or on some festivities.
With this very useful function, it would also be possible to define certain combinations of Arrival-Departure. For example, you can define Friday and Monday as allowed arrival days and choose the combinations Friday-Friday (1 Week), Friday-Monday (Weekend), Monday-Monday but exclude Monday to Friday.
Apply the Restrictions to all your Rooms/Houses/Apartments or only to some. With the Dates-Range filter you will be able to create your Restrictions for certain dates only or for entire months.
Bookings and Availability Calendars
Quick Reservations and Overview: from the administrator section it is easy to have a global look of the remaining availability of your rooms. The front-end displays by default an availability calendar for each room showing the Not-Available days (in Red), the ones Available (in Green) and optionally, the ones on which the room has been Partially Reserved (in Yellow).
Stop Bookings/Close Rooms: the back-end offers some useful functions for closing the rooms on some dates and to register some bookings received over the phone or from some portals.
Bookings Export in ICS and CSV formats: all the bookings can be exported with various filters like Status, Date, Check-in etc. The ICS format is used by any Calendar software like iCalendar, Google Calendar, Yahoo! Calendar any many others. The CSV files instead are easy to be read with software like Excel, Numbers, OpenOffice, LibreOffice etc..
Choose your own Bank Gateway
The application comes with a few payment options pre-installed such as PayPal, Bank Transfer, Offline Credit Card, Cash upon Arrival. However, you can easily integrate the system with your preferred bank gateway. In fact, the payment framework can be extended and it supports any kind of integration, even the ones requiring an SSL certificate or a 3D Secure Authentication. Many other payment gateways can be implemented.