Probably the most complete Appointments Scheduler extension system for your Joomla website. Designed to schedule and organize appointments of any kind, for any kind of service, business that needs to have a reliable availability calendar. Accept reservations online and schedule the appointments for each employee in a smart and efficient way.
Appointments can be exported in a format compatible with any Calendar Software like iCal, Outlook, Google and so on. It is also possible to generate invoices for each confirmed order on your system.
This Appointments Scheduler system can be configured to work as a portal of employees of different cities/countries as well as an online agenda for professionals.
The system can allow users to leave reviews for the services and/or the employees listed on your website.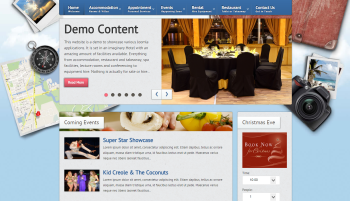 To view a demonstration of this application please visit here
Use these credentials to log into the website
Username:  demo
Password:  demo
We recommend you purchase a SSL Certificate to accompany this application - see available SSL Certificates here
This application is available to buy as an add-on from within your website control panel. It can also be ordered when you initially sign up for any of the website packages. The application runs under Joomla and this must be installed in your package.
Below are screenshots of the Appointments Application Administration panel and options:
Appointments Scheduler most important features:
Services management with Prices, Duration and Categories
Employees management with Images, Descriptions and Details
Working Days and Times: define the entire working week of each employee with different shifts on every day
Options management: add extra services that the users can reserve online with additional costs and durations
Administrator Calendars: a complete management of the appointments of each Employee for any service
Employees Calendars with the availability of each of their working days
Statistics and Reports for any Employee based on all the appointments scheduled
Online Payments with custom Payment Methods (PayPal, Offline Credit Card, Pay on Arrival are pre-installed)
Appointments Export in CSV and ICS format for calendar software like iCalendar, Outlook, Hotmail, Google Calendar etc..
Email notifications can be sent to the customer who made the appointment, to the employee and to the administrator

Services Management
Services are one of the most important entities of the system and they are required to receive online appointments from your website. Services are the tasks that the employees of your company can perform, like Consultancy, Professional Services, Haircuts, Cleaning, Massages and so on.
Prices and Duration: services can have a different cost depending on the employee but the duration will be the same for all of them. The price of a service is its actual cost (tax included) that the customers will have to pay either online or upon arrival. The duration is the time (in minutes) needed for the completion of the service. In case services/employees require some time between an appointment and the other, you can use the parameter "Sleep Time" (expressed in minutes).
Capacity: by default services can receive one person only at the same date and time, like a meeting or a consultation or a visit. If one or more services can host multiple people at the same time, like yoga courses, you can increase the maximum allowed capacity of people (per appointment) for these services.
Recurrence: define if one or more services can be booked with a recurrence in the same order. In these cases the system will store a different reservation for each date and time. The recurrence settings can be configured from the global configuration of the program.
Assignments: a service, in order to be booked, has to be assigned to at least one employee, even if your service doesn't have a real person/object to perform it. In these cases the employee selection in the front-end will be skipped. During the booking process it is possible to allow customers to choose also additional options to improve the experience or to purchase extra items. Options can be assigned from the services pages but they are not mandatory.
Employees Management
Employees are required to define their working days-table in order to setup an availability calendar for the services. An employee can represent a person, an object, a room or anything else that can be scheduled for appointments.
Working Days: setup all the available days of work for your employees. With this feature you can define the weekly working times, the special days working times as well as the closing days. Working Days can be divided into different shifts, so that your employees can have one or more breaks during their working days.
Locations: each employee can work on different locations and through this feature you can specify the addresses and the coordinates (to be displayed in google maps). The locations can be also assigned to certain working days, meaning that employees can work at one location on some days and at other locations on other days.
Front-End Area: the employees can log in to an apposite management area in the front-end to manage their profile, services, payments, working days, locations, subscriptions and so on. All the actions an employee can perform are defined in the Configuration page of the employees in the back-end.
Notifications
Every time a new order/appointment is placed by customers, the system will notify the customers themselves, the employee(s) and the administrator(s) in some different ways: E-mail, SMS, ICS Sync
E-Mail: you can have the system sends automatically a confirmation/notification e-mail with the summary of the order to the customers, employee(s) and administrator(s) every time a new appointment is placed. It is also possible to configure when someone should receive the e-mail, either "ALWAYS" for the administrators or only when "the status is CONFIRMED" for the employees and customers. E-mail messages can also contain additional files like the CSV and/or the ICS of the order as attachments.
SMS: the system can send automatically a notification via SMS to the customers and/or to the employees and/or to the administrators every time a new order is set to CONFIRMED. The content of the sms can be easily customized from the backend in multiple languages for single and multiple orders. Additional fees should be considered according the gateway provider you will be using, like £0.08 per sms.
ICS Sync: employees and administrators can use VikAppointments to auto-sync the CONFIRMED appointments on their Online Calendar systems, like iCal, Google, Outlook and so on. The synchronization is made through different private URLs.
Payment Gateways
The Appointments application comes with a few payment options pre-installed such as PayPal, Offline Credit Card, Cash upon Arrival.
However, you can easily integrate the system with your preferred bank gateway. In fact, the payment framework can be extended and it supports any kind of integration, even the ones requiring an SSL certificate or a 3D Secure Authentication.
Languages
Services, employees, options and categories can be translated into any language installed on your Joomla website. There is no need to use any third party extension for having multi language contents.