Why do we use Magento Community Edition as our primary E-commerce Application?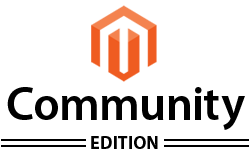 Magento Community Edition, which is available for free to developers like ourselves, offers the most proven, robust, and scalable ecommerce development platform for a merchant's online business.
Likewise it offers ecommerce developers, a never-ending list of time-tested plug-in modules from 3rd party vendors to address most online marketing challenges from back office ERP system integration to social marketing solutions.
As an open-source online shopping cart and ecommerce development platform, Magento Community Edition also allows our team to integrate our own custom code to the platform when we can't find an adequate 3rd party Magento Connect module from the network of thousands of pre-developed ones.
Most importantly, the Magento Community Edition over the last decade has built up a long and impressive list of online checkout, product display, onsite search, and more to ensure that their platforms remains on the short list of any online merchant that is seriously exploring the future of their online ecommerce technology.
Purchased Add-On Application
The installation we provide as an add-on application is fully configured with sample data to let you get a feel for the application and how it performs. When you are ready to import your own data we assist in getting your build up and runnng and continue with ongoing support. To purchase this as an add-on application simply order the E-Commerce package here and Magento CE will be installed and configured for you. We recommend you purchase a SSL Certificate to accompany this application - see available SSL Certificates here
Self Installed Application
Our servers are configured correctly to allow you to install Magento CE yourself and we ensure your installation has all the required pre-requisites that makes installation an easy and hassle-free process. When installing yourself we recommend you purchase a SSL Certificate - see available SSL Certificates here. Be aware we do not provide any support for your personal build but there is no lack of online resources available if you run into trouble. The application can be installed from your website control panel automatically but still requires configuration and product data input.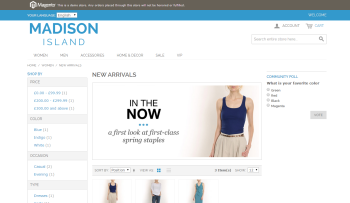 To view a demonstration of this application please visit here
The demonstration website shows the sample data installed and has full functionality.
It is only a demonstration and no products are actually for sale and no orders will be fulfilled.
Below are screenshots of the Magento CE Administration panel and options:
Following is a list of popular ecommerce features available as part of the Magneto Community Edition*:
WEBSITE MANAGEMENT FEATURES
Select and Control Information to Share Across Multiple Online Stores From a Single Admin Area
Assign Roles and Permissions Across Users
Web Services API for easy integration between Magento and any third-party application
Custom Website Design and Styling
Manage Online Customer Groups
Integrated Content Management System (CMS) for Creating and Managing Informational Pages
Google Website Optimizer Integration for A/B and Multivariate Testing
ANALYTICS AND REPORTING
Integration with Google Analytics
Admin Report Dashboard with Business Overview
Sales Reports Including Total Sales and Returns
Tax Reports
Abandoned Shopping Cart Reports
Best Viewed Products Reports
Top Sold Products Report
Low Stock Item Report
Onsite Search Terms Report
Product Reviews Report with RSS Support
Tags Report with RSS Support
Coupon Usage Report
CUSTOMER SERVICE
Contact Us form
Feature-rich Customer Accounts
Order History with Status Updates
Order Tracking from Account
Password Reset email from front-end and admin panel
Order and Account Update Emails
Customizable Order Emails
Create and Edit Orders from the Admin Panel
CATALOG MANAGEMENT
Inventory Management with Backordered items, Minimum and Maximum quantities
Batch Import and Export of catalog
Batch Updates to products in admin panel
Google Base Integration
Simple, Configurable (e.g. size, color, etc.), Bundled and Grouped Products
Virtual Products
Downloadable/Digital Products
Customer Personalized Products – upload text for embroidery, monogramming, etc.
Tax Rates per location, customer group and product type
Attribute Sets for quick product creation of different item types
Create Store-specific attributes on the fly
Media Manager with automatic image resizing and watermarking
Advanced Pricing Rules and support for Special Prices (see marketing tools)
Search Results rewrites and redirects
Approve, Edit and Delete Product Tags
Approve, Edit and Delete Product Reviews
RSS feed for Low Inventory Alerts Customer Personalized Products – Upload text for embroidery, monogramming, etc. (this one is already there, but want to have the following shown after it)
Customer Personalized Products – Upload Image
Customer Personalized Products – Select Date/Time options for products
Customer Sorting – Define Attributes for Customer
Sorting on category (price, brand, etc.)
CHECKOUT, PAYMENT, & SHIPPING
One-Page Online Checkout
Integrated for Real-Time Shipping Rates from UPS®, FedEx®, and USPS®
Option on Credit Card Transactions to Authorize and Charge or Authorize Only and Charge on Creation of Invoices
Integrated with Amazon Payments, PayPal, Authorize.net, and Google Checkout
Ability to Accept Checks, Money Order, and Online Purchase Orders
SSL Security Support for All Online Order and Sensitive Transactions
Online Tax and Shipping Calculation and Prior to Checkout Estimates
Option to Create Account as Part of Online Checkout Process
Gift Message Management
Configurable Saved Cart Expiration
Multiple Shipping Address Management
Online Order Tracking from Customer Account
Ability to Manage Multiple Shipments on a Single Online Order
Destination Country Management
Per Order and Per Item Flat Rate Shipping Option
Free Shipping Functionality
Manage Shipping by Weight and Destination
SEARCH ENGINE OPTIMIZATION (SEO)
Light Footprint Design for Fast Load Time and Search Engine Optimization
Google Site Map Creation and Site Map Auto Generation
Search Engine Friendly URL's Including URL ReWrite Controls
META Information Management at Product and Category Levels
Auto-Generated Popular Search Terms Page
CUSTOMER ACCOUNTS
Order status and history
Re-orders from account
Recently ordered items
Address Book with unlimited addresses
Default Billing and Shipping addresses
Wishlist with ability to add comments
Email or Send RSS feed of Wishlist
Newsletter Subscription management
Product Reviews submitted
Product Tags submitted
PRODUCT BROWSING
Multiple Images Per Product
Product Image Zoom-in Capability
Product Reviews
Related Products
Stock Availability
Multi-Tier Pricing Upsell
Product Option Selection
Grouped Products View
Add to Wishlist
Send to a Friend with Email
CATALOG BROWSING
Layered / Faceted Navigation for filtering of products in categories
Layered / Faceted Navigation for filtering of products in search results
Flat Catalog Module for Improved Performance with large catalogs
Static Block tool to create category landing pages
Ability to assign designs on category and product level (unique design per product/category)
Configurable search with auto-suggested terms
Recently viewed products
Product comparisons
Recently compared products
Cross-sells, Up-sells and Related Items
Popular Search Terms Cloud
Filter by Product Tags
Product Reviews
Product listing in grid or list format
Breadcrumbs
To view a demonstration of this application please visit here