This is an extension for building a complete equipment hiring service for your Joomla website and designed for placing orders with multiple items at the same time. A lot of different features are available in this extension for hourly, daily, weekly and monthly rentals of any kind of item such as Bikes, Camping Equipments, Sports and Fitness Equipments, Tools, Heavy Machinery, Party Supplies, Luxury Goods, Camera Equipment and much more.
It is also possible to have the Items Delivered to a specific address. By enabling the feature Delivery Service (even on just a few Items), the users will be able to enter their address and the system will calculate the distance between the base address of your company (in Km or Miles) and depending on the distance, a different delivery cost will be applied.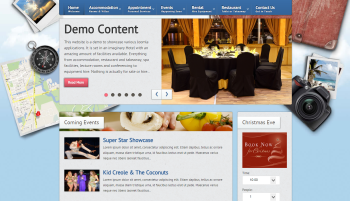 To view a demonstration of this application please visit here
Use these credentials to log into the website
Username:  demo
Password:  demo
We recommend you purchase a SSL Certificate to accompany this application - see available SSL Certificates here
This application is available to buy as an add-on from within your website control panel. It can also be ordered when you initially sign up for any of the website packages. The application runs under Joomla and this must be installed in your package.
Below are screenshots of the Rental Application Administration panel and options:
The most important features:
Rental Time Slots (i.e. One Week, Full-Day, Half-Day, 3 Hours....)
Hourly Prices
Daily Prices
Charges for Extra Hours of Rental
Discounts per Quantity
Seasonal Prices (Charges or Discounts to be applied to the standard rental fares)
Special Prices for some days of the week (special occasions or holidays)
Items Categories
Pickup and Drop Off Locations (for those who need them, disabled by default)
Delivery Service: calculate the distance between your base address and the destination
Google Maps APIs used for calculating the distance for the delivery in Km or Miles
Options Management
Options Pricing (daily price or fixed price to be added to the rental cost)
Items Specifications (i.e. Size, Color etc..)
Types of Price (Theft Insurance, No Insurance...)
Items Availability Calendar Management from the Admin Panel
Search Module and Order Summary Module
Payment Framework that supports custom payment gateways
Pre-Installed Payment Gateways: Paypal, Authorize.net AIM, Bank Transfer, Offline Credit Card
More than 20 payment gateways available in the Payments section of our website
Payment of the entire amount or percentage value as Deposit
Invoice and/or Contract/Agreement in PDF format can be sent by eMail (the PDF is customizable with a template file)
Multi language Support (have a look at the Documentations page, section Multilanguage Contents for more details)
Orders Overview
Custom Order Fields
CSV export of the orders for software like Excel, Numbers, OpenOffice etc..
ICS export of the orders to synchronize software like iCalendar, Google Calendar, Hotmail etc..
Front-End Availability Calendar (Daily and Hourly) for each Item
Google Maps for Locations with markers placed in the given Latitude and Longitude
jQuery UI Datepicker Calendar for the dates selection